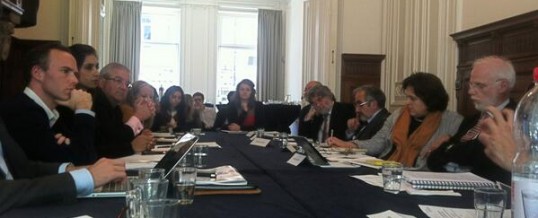 Yesterday lunchtime at the Brussels campus of Maastricht University, Pugatch Consilium was pleased to host a roundtable discussion and launch its latest report on 'Clinical trials and data transparency – the Public Interest case'. Around the table were representatives from the academic community, patient groups, industry, scientists, pharmacists, doctors and policymakers, who debated the policy issues along with the 3 authors of the report.
Professor Meir Pugatch, Haifa University and Founder of Pugatch Consilium, opened the proceedings by summarising the key findings of the report and setting the stage for discussion. He emphasised that the move towards greater transparency and coordination in the field of clinical trials (including the EMA's draft policy on "Publication and access to clinical-trial data") is a worthy goal and will no doubt enhance the complex biopharmaceutical R&D process. The primary objective of the initiative is to benefit public welfare, particularly to allow patients to use existing health technologies in a safe and efficient manner and to access new technologies in the future, he said. But he questioned whether the approach taken in the draft policy, which very generally would involve releasing large amounts of very detailed clinical trials data to the public, will lead to significant benefits for the public and not have negative unintended outcomes? To the extent that the disruption of existing regulatory practices from the release of clinical trials data deters the benefits of accessing new health technologies, the benefits that may be drawn from the release of clinical trials data are not likely to compare, in his view. Potentially negative outcomes include:
Re-analyses by third parties distributed without legal or regulatory checks on their integrity could lead to spread of misinformation on health technologies and  harm both patients' and companies' welfare.
Compromising of patient confidentiality and personal privacy, despite (and, in some cases, because of) efforts to avoid identification of patients and other individuals.
Significant erosion of existing levels of regulatory data protection could lead to premature competition from generic and other competitors and reduce companies' willingness and ability to invest in development of future health technologies.
Resource implications of introducing a process for reviewing requests to access clinical trials data and de-identifying patient data will be substantial for both the EMA and manufacturers.
The EMA draft policy as it stands is therefore not a direct or practical solution to ensuring the safe use of existing medicines or the development of new medicines. The EMA must ensure that the framework for release of clinical trials data does not lead to new, and potentially graver, problems than the ones it aims to solve. The draft policy should aim for a more pragmatic threshold of transparency, one which places greater emphasis on coordination of stakeholders and voluntary disclosure of data, as well as minimises additional red tape and better avoids breaches of patient privacy. The 'litmus test' for new policies on clinical trials and access to data in the EMA's possession should be the yielding of concrete and direct benefits to public welfare.
Professor David Taylor, UCL School of Pharmacy, then spoke on the macro-economic and social implications of the proposed policy. The key test for him is whether opening up clinical trials data will lead to saving more lives. The concept of open information has become more important to society but it comes with a cost. Europe needs to maintain the conditions for innovation if we want to maintain our standard of living and it is worrying that this policy may deter investment in scientific research in Europe. What is the opportunity cost and wouldn't more lives be saved by investing in CTs in neglected areas of research instead of setting up more bureaucracy to deal with opening up CTs data? We also need more accountability for those who abuse data regulations, he argues.
Professor Atholl Johnston of Barts and the London School of Medicine who is involved in running clinical trails emphasised his worries about the disclosure of Commercially Confidential Information (how do you separate scientific info. from commercial in this field?). There will also be a burden on scientists about how to provide the data in the right form. He believes that competitor companies may be more likely to benefit from transparency of clinical trials data than the academic community and stressed the importance of recognising the danger of incorrect secondary data analysis, such as in the case of the MMR vaccine, the effects of which are still being felt in the UK.
Douglas Lippoldt of the OECD referenced the issue of trade secrets and data protection on which he is doing some future work for the OECD. He made the important point that the TRIPS agreement enshrines the right to data protection against unfair commercial use or disclosure and highlighted the fact that the draft EMA policy, if it comes into effect, will change the manner in which  the non-disclosure requirements mentioned in TRIPS will be regarded by other countries, not least in the context of different regional and bilateral trade agreements. He concluded that trade secrets provide an important incentive to innovate and that the way in which countries protect data has economic implications to which policymakers need to be alert.
Next Dr Alphonse Crespo, a Swiss orthopaedic surgeon and leader of a doctors' reform group, gave comments and voiced his concerns on the EMA's draft policy from a physician's perspective. His key point was that doctors rely on medical innovation to serve their patients and provide them with the best choice of treatments. Any delay and hindrance to innovation process therefore does not help doctors or patients. His preference would be more in favour of voluntary disclosure of data rather than compulsion. However,  openness of data to patients can be a good thing especially in the case rare diseases and he believes that the field of genomics will benefit from data sharing both for patients but also for industry.
From the perspective of the research she has done with patient organisations, Dr Alex Wyke of Patient View made the following observations in response to the EMA draft policy and the Pugatch Consilium report.  Overall, her understanding is that patients feel great ownership of and respect for the CTs process and very much want access to the data. Most patients don't understand the arguments about protection of Commercially Confidential Information and firmly believe open data especially on adverse reactions is in the public interest. But there are concerns over 'big data' and the need for properly informed consent. In general, the clinical trials process is not well understood by the public, for whom it seems a bit like a black box. There is a growing movement about the need to educate and involve patients step by step in the CTs process.
In the roundtable discussion which followed a number of key questions were raised which participants felt were worth of consideration by the EMA as the organisation consults on the draft policy with a view to publishing it in its final form by January 2014.
– In future, idea that data will be made public will have to be built in from day 1 of CTs not bolted on retrospectively.
–  Brussels is sending out mixed messages on CTs and attracting scientific research and the European institutions need to have a more holistic discussion about open data.
– Will EMA draft policy send phase 2 clinical trials to other jurisdictions with greater data exclusivity protection?
– Why doesn't the Commission make its own decisions transparent e.g. on FP7 but EU applies transparency standards to others in the private sector?
In summing up, it was clear that as simple and attractive as the policy of transparency may sound (especially to the general public who are not intimately familiar with how clinical trials work), the devil is in the detail and the EMA policy may need to be less ambitious and more pragmatic if it wants to achieve the aim of enhancing research but without at the same time providing new challenges which make Europe a less attractive place to conduct or invest in scientific research.
Share