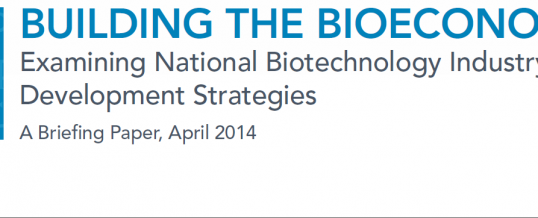 Today Pugatch Consilium releases a new report on the development of national innovation strategies in the biotech sector commissioned by the Biotechnology Industry Organization (BIO).
The report, Building the Bioeconomy Examining National Biotechnology Industry Development Strategies, provides an overview of national innovation strategies, policies and best practices that relate to the building of a world-class biotechnology sector. It identifies key enabling policy input factors ranging from human capital, protection of intellectual property to infrastructure for research and development.
Through case study analysis the paper focuses on the biotechnology strategies of a sample of eight countries. The countries mapped are Brazil, China, India, Korea, Russia, Singapore, Switzerland and the United States. The point of reference for this overview is the development of a globally competitive biotech sector in which local biotech actors and stakeholders aim to and can compete globally.
Download a copy from the Research & Analysis Reports page.
For further information please contact Dr David Torstensson Email David
Share