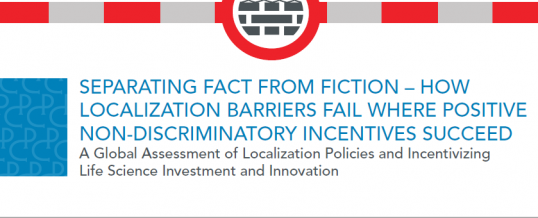 More in number and more draconian – Localization barriers have grown in number and intensity over the last decade. Our new study – Separating Fact from Fiction: How Localization Barriers Fail Where Positive Non-discriminatory Incentives Succeed – finds that over the last 5-10 years industrial aspirations and concern over their dependence on global supply chains have led many emerging markets to seek to bolster or create indigenous sectors through introducing protectionist-like measures.
However, the study also finds that restrictive and punitive conditioning localization barriers do not have the desired positive impact on economic activity or innovation. Looking for example at the levels of clinical research (a good proxy of high-level and sustained biopharmaceutical investment), the study finds that countries that have erected localization barriers – while exhibiting some of the strongest biopharmaceutical market growth rates and significant market size and potential – experience extremely low levels of clinical trials intensity. These negative results stand in stark contrast to the success of markets that focus on creating an enabling environment through positive non-discriminatory incentives and policies.
Additionally, building on the data and case studies the study sums up the negative impact localization barriers have through six 'Myths and Facts' with country specific examples. Covering some of the most common assumptions about the beneficial impact localization requirements can have, such as on domestic manufacturing / R&D capacity, access to innovative medicines, healthcare savings and effects on imports, the study provides a set of facts which show how these assumptions are not borne out by empirical evidence and international experience.
To access the report please use the below link: Separating Fact from Fiction – How Localization Barriers Fail Where Positive Non-discriminatory Incentives Succeed
Share