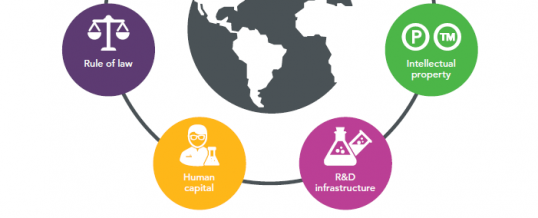 Commissioned by the Biotechnology Industry Organization and authored by Pugatch Consilium this series of reports seek to provide an overview of those national innovation strategies, policies and best practices that have been successful in creating an environment in which biotechnologies and biotechnological innovation can flourish.
This year Building the Bioeconomy has grown from thirteen economies to sixteen, adding Colombia, Israel and Japan. As in previous editions the sample of economies is geographically and economically diverse with a mix of high-income mature OECD economies and middle income and emerging markets.
Last year a key new feature of Building the Bioeconomy was the Biotech Policy Performance Measure. This tool (the 'Measure') provided readers a quick overview of a given economy's policy framework and performance in relation to the other economies sampled. The Measure assessed the existence and performance of some of the most important elements for each of the seven enabling factors used to map a given economy's biotechnology policy framework. This year the Biotech Policy Performance Measure has been expanded to now also take into account biotech outputs. Indicators on biotechnology outputs cover a broad spectrum ranging from levels of total clinical trial activity, clinical trials for biologics, scientific output, biotechnology crops under cultivation, venture capital attractiveness, biotechnology patenting, rates of university patenting, to biopharmaceutical product launches.
All in all there are now 21 indicators in total (10 policy inputs and 11 outputs) that together provide a full and detailed measure of the complete biotechnology environment for a given economy.
Perhaps the most important finding of the 2016 edition of Building the Bioeconomy is that economies that have weak enabling environments – and perform worse relative to other economies on the ten indicators relating to policy inputs – tend also to have lower biotechnology outputs. The 2016 Biotech Policy Performance Measure shows economies that have the right policy framework and create positive, incentive based environments around the seven enabling factors tend to be much more successful in achieving strong biotechnology outputs.
To read the full report please use the below link:
Research & Analysis Reports page
Share