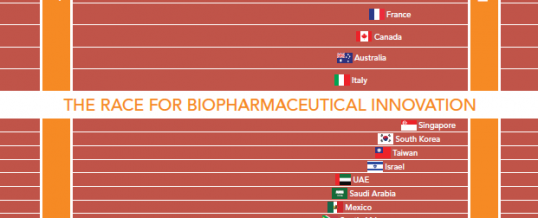 Pugatch Consilium has launched the third edition of the Biopharmaceutical Competitiveness & Investment (BCI) Survey: The Race for Biopharmaceutical Innovation.
A global executive opinion survey and index of economies' attractiveness for biomedical investment, in 2016 the BCI covers 28 strategic markets and gauges individual markets in relation to others with similar levels of development. The study was released in Washington DC and Ottawa, Canada, with other local and regional launches to take place throughout the remainder of the year.
Key findings of the 2016 BCI include:
Packing a punch: Executives rank smaller markets like the Asian Tigers as relatively as relatively more competitive than the BRICS in the global race for biopharmaceutical innovation.
The policy environment matters: A common denominator among top-scoring countries is not market potential, but a relatively supportive policy "ecosystem".
Pro-innovation policies are essential for maintaining an advantage: Market-based measures that reward innovation and promote technology transfer are what set countries apart from the rest of the pack in the eyes of executives.
Intellectual property and localization measures are key turnstiles: Patent rules and enforcement and the playing field for foreign innovators stand out as vital factors that can either help or hinder markets' biopharma competitiveness.
Full study: The Race for Biopharmaceutical Innovation – Biopharmaceutical Competitiveness & Investment (BCI) Survey 2016 
Press release: Packing a punch – Smaller countries lead in biopharma investment while BRICs trail
Blog post: 2016 BCI Survey – A pro-innovation environment is essential for biopharmaceutical investment
Share