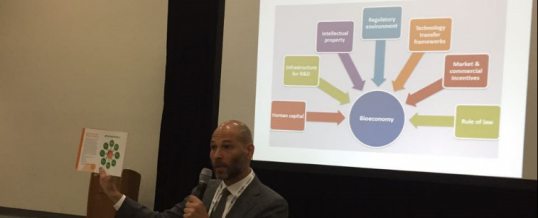 Professor Meir Pugatch and Dr. David Torstensson are speaking today at the BIO international convention held in San Diego, CA. Sponsored by the Biotechnology Innovation Organization, the annual convention hosts more than 16,000 attendees from over 70 countries.
Yesterday Professor Pugatch participated in a high level discussion within the What in the World Matters? The Challenge of Spurring Innovation in Global Markets panel, which focused on the relatively slow uptake of biotech innovation in economies outside the US, and on the measures that should be utilized in order to encourage dynamic growth and competitiveness in the biotech field.
Today Professor Pugatch will moderate the panel: The World is Yours: Conducting Clinical Trials Globally. Clinical research, an essential component of the drug development process, represents more than USD80 billion in annual investments by the biopharmaceutical industry. The panel will focus on identifying which national policies tend to boost, or hinder, clinical trials intensity, and what should countries focus on in order to attract greater clinical trials activity.
The 2017 BIO convention also marks the launch of the fourth edition of the Building the Bioeconomy series of papers examining national innovation strategies, policies and best practices that have been successful in creating an environment in which biotechnologies and biotechnological innovation can flourish. The study – covering 26 countries from all major regions of the world in this year's edition – finds that economies that have the right policy framework and create positive, incentive based environments tend to be the most successful in achieving strong biotechnology outputs.
Share