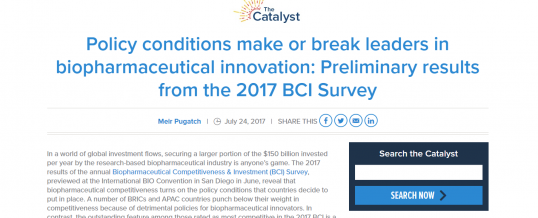 In a world of global investment flows, securing a larger portion of the $150 billion invested per year by the research-based biopharmaceutical industry is anyone's game. The 2017 results of the annual Biopharmaceutical Competitiveness & Investment (BCI) Survey, previewed at the International BIO Convention in San Diego in June, reveal that biopharmaceutical competitiveness turns on the policy conditions that countries decide to put in place.
A new blog post by Prof Meir Pugatch on PhRMA's The Catalyst discusses these results and new Pugatch Consilium estimates on the costs that the most damaging policies worldwide bear for the biopharmaceutical industry annually. Our estimates suggest that the most pressing policy challenges among the 30+ markets in the BCI Survey in 2017 cost the biopharmaceutical industry up to $148.92 billion in global sales annually – and this may be regarded as a conservative estimate. This means nearly $149 billion in economic output and much more when taking into account the wider footprint of the industry on investment, jobs and other areas of the economy.
Read more at http://catalyst.phrma.org/policy-conditions-make-or-break-leaders-in-biopharmaceutical-innovation-preliminary-results-from-the-2017-bci-survey
The full results and report on the 2017 BCI Survey will be released later this year.
Share