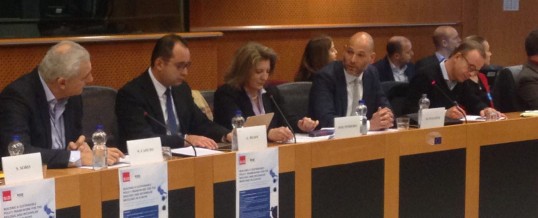 Professor Meir Pugatch spoke yesterday at the event: "Building a sustainable Policy Framework for Biologics and Biosimilar Medicines in Europe", which took place at the European Parliament, and included members from the European Commission and organizations such as Medicines for Europe, ESMO and EPF. Professor Pugatch presented the findings of a new study by Pugatch Consilium, commissioned by the European Federation of Pharmaceutical Industries and Associations (EFPIA).
With 38 biosimilar medicines approved and marketed and hundreds of clinical trials on promising biologic medicines conducted annually, Europe is a global leader in the field of biologic medicines. Yet from a policy perspective the Single Market is highly diversified. It is therefore essential to ask: "How should policy frameworks be designed and implemented to ensure long-term sustainability of off-patent biologic markets while taking into account health system financing and efficiency, in addition to commercial and patient access perspectives?"
Building on a comprehensive analysis of the biologics policy ecosystem within 15 European countries, and on the insights from an Expert Opinion survey of stakeholders from all facets of the biologics market – including patients and patient groups, healthcare professionals and government representatives – the study proposes a 'Gold Standard' for establishing a sustainable European market for off-patent biologic medicines.
Share