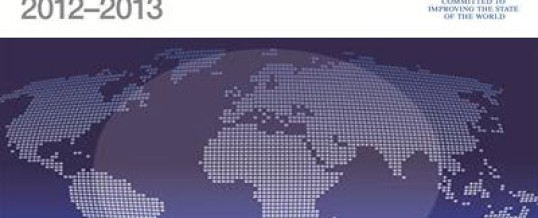 Earlier this month the Word Economic Forum released its annual Global Competitiveness Report. The report ranks 144 countries across a number of areas of socio-economic performance including: macroeconomic environment; strength of public and private institutions; infrastructure; education quality; market size; and a host of others.
In terms of the rankings there are relatively few surprises; the Scandinavian countries, Switzerland, Singapore and Northern Europe do quite well with Switzerland, Singapore and Finland grabbing the top three spots. As in other indices presented this year (see for example the Global Innovation Index) the United States continues to drop in the rankings. This time from 5th to 7th place.
Most large emerging market economies stayed roughly the same or experienced a slight drop. For example, China dropped three places from 26th to 29th and likewise India dropped three spots from 56th to 59th place.
To read more about the country rankings and access the Index please use the below link:
http://www.weforum.org/news/persisting-divides-global-competitiveness-switzerland-singapore-and-finland-top-competitiveness
Share