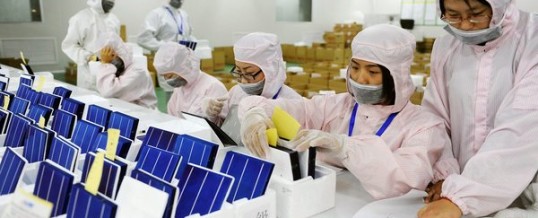 China is the lead exporter of solar panels, and the US the leading supplier of the prime ingredient polysilicon – should be a happy marriage, right?
It could be if governments would step away and let sectors with competitive advantages be truly competitive. Instead, the US Commerce Department is claiming the Chinese government subsidises the export of its solar panels and China of course points to the failure of US-backed solar panel manufacturer Solyndra. Now the Chinese industry may retaliate with its own complaint against American exports of polysilicon – worth about $873 million last year.
China certainly has the advantage in solar panel production – it already represents three-fifths of the world's production. And when it comes to polysilicon plants (which eat huge amounts of electricity), the US takes advantage of inexpensive hydroelectric power in states such as Tennessee and Washington. In contrast Chinese polysilicon factories rely heavily on coal-fired electricity.
What would happen if both China and the US stopped propping up their solar panel sectors and let each do what it does best? That's the beauty of global trade, after all.
http://www.nytimes.com/2011/11/22/business/global/china-bends-to-us-complaint-on-solar-panels-but-also-plans-retaliation.html?pagewanted=1&ref=business&src=me
http://www.nytimes.com/2011/11/10/business/global/us-and-china-on-brink-of-trade-war-over-solar-power-industry.html?pagewanted=all
Share