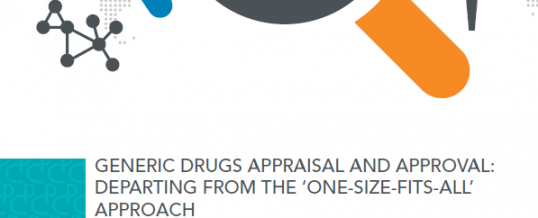 Today Pugatch Consilium releases Generic drugs appraisal and approval: departing from the 'one-size-fits-all' approach.
Generic medicines – follow-on versions of off-patent innovative medicines – are designed to be interchangeable to the innovative reference product. As more sophisticated and complex medicines are developed, securing the safe and effective use of their follow-on products becomes increasingly challenging.
This report zeroes in on the existing gaps and challenges within the 'one-size-fits-all' model of generic drugs approval vis-à-vis two particularly complex drugs: Narrow Therapeutic Index (NTI ) drugs / Critical Dose drugs and Non-Biologic Complex Drugs (NBCDs).
The report examines current drug regulations in seven drug regulatory authorities from both developed and emerging markets including the FDA and EMA.
The report's findings can be grouped along three key findings:
Key finding 1: NTI drugs and NBCD s necessitate a more rigorous regulatory approach
A growing body of scientific evidence now clearly indicates that the conventional, 'one-size-fits-all' approach in the regulatory approval of generic drugs is technically inadequate for ensuring the safe and effective use of follow-on versions to the reference product, especially with regards to NTIs and NBCDs.
Key finding 2: DRA s have been slow in addressing the challenges posed by NTI drugs and NBCD s and patients potentially remain at risk
This report's mapping of the current practices for generic drug approvals for NTI drugs and NBCDs in seven developed and developing markets confirms that the 'one-size-fits-all' approach suffers from substantial gaps with respect to the current state of the scientific literature. Indeed, among the seven examined drug regulators (which include both stringent as well as developing DRAs) none has implemented in full (or even in part, in some cases) the recommended standards and practices for approving follow-on versions of NTI drugs and NBCDs.
Key finding 3: Regulatory convergence is taking place – Next step should include NTI s and NBCD s
The regulatory approval process for generic drugs – which includes standards governing bioequivalence and labeling to manufacturing and dispensation – is in most major respects converging. Since the mid-1980s and passage of the Hatch-Waxman Act in the US, most major DRAs have introduced similar pathways for follow-on products. Generic drugs are required to provide bioequivalence data that underpin the assumptions about pharmaceutical and therapeutic equivalence between reference and follow-on product and their safe and effective use. As mentioned, five of the seven DRAs examined in this report have taken partial measures strengthening regulatory requirements for NTIs. The WHO and other international institutions are also working on improving best practices for the approval of generic follow-on products. Once a growing body of DRAs introduce reforms to both the approval process for NTIs and NBCDs there is a good chance this can become an established international best practice and regulatory convergence is more likely to take place.
The report is available to download on our Safety of Medicines Resource Portal
Share