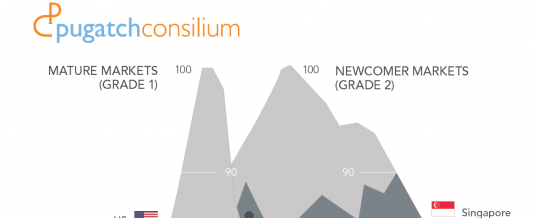 Pugatch Consilium has released the 2017 Biopharmaceutical Competitiveness & Investment (BCI) Survey. An executive opinion survey, in 2017 the BCI polled business leaders and local general managers from the biopharmaceutical industry about the investment environment in 31 markets. The results are available in the linked report below.
The headline results of the 2017 BCI Survey include:
The policy environment matters a great deal for biopharmaceutical investment decisions. Economies with policies supporting biopharmaceutical innovation and investment are much more likely to actually secure investment compared to economies employing policies that are viewed as drawbacks. The 2017 BCI scores are positively linked to the rate of clinical trial activity (as one proxy for biopharmaceutical investment).
In terms of newcomer markets, those rated as less likely to secure investment in the BCI and exhibiting relatively low levels of clinical research – including the BRICs and many APAC countries – are ones displaying significant challenges in the areas of market access, intellectual property protection and localization requirements. The share of economies where these areas were identified as top barriers to investment rose by 50% in 2017 compared to the 2016 BCI.
At the same time, many of these economies demonstrated year-on-year improvements in R&D and clinical trial capacity in 2017, suggesting real potential for biopharmaceutical innovation and investment if stronger policy fundamentals were in place.
For mature markets, the BCI results point to market access and regulatory delays as the weakest links among those economies rated less likely to secure investment. Cost containment measures, discrimination against IP owners and other policies that jettison support for innovation are top of mind for innovators making decisions about where to invest.
For each individual market, the BCI report also provides a detailed breakdown of the market's results, with a special focus in 2017 on which policy trends are most detrimental or supportive of biopharmaceutical investment.
The report may be accessed at the following link: Research & Analysis Reports Page
Share