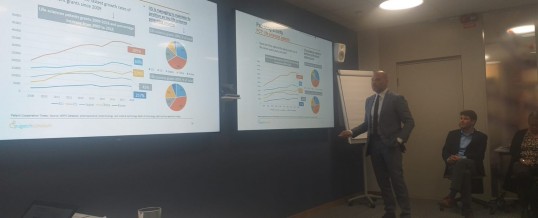 Yesterday Professor Pugatch spoke to an audience of Swedish life sciences stakeholders on the EU's capacity to compete in the global life sciences innovation race, at an event organized in Stockholm by Bayer Sweden in collaboration with the Karolinska Institute Holding.
Professor Pugatch provided an evidence-based analysis of the EU's performance in attracting life sciences investment as compared to the US and emerging Asian players, and reflected on the ongoing shifts in life sciences innovation capacities at the global level.
In which areas is the EU losing grounds, and to whom? Which issues impact the most the EU's ability to maintain its competitiveness?
The analysis presented where life sciences innovation output is coming from – as measured by the level of clinical trials, new drug approvals, patenting activity, licensing and acquisitions, added value and export. It also looked at how the EU, US and China perform on the main life sciences innovation input – the fundaments of a thriving life sciences sector: access to finance and human talent, sustained R&D spending, efficient tech transfer framework, high IP and regulatory standards, and adequate market access conditions.
The EU remains a leader in life sciences, but its leadership is eroding; this realization is the starting point for stakeholders to work together and raise the EU's game in life sciences. Swedish stakeholders are eager to join forces to understand what can be done to keep the EU as an attractive investment destination.
Share